Deep in the trenches: August 7th 2020
Red notice, how the Kindle was created and the Notion web clipper
Good morning everyone,
For new subscribers, I share every two weeks:
1) Resources I've learnt from
2) A tool I'm enjoying
3) 1 thing I've learnt building actiondesk
4) What's on my reading list
Let's go:
Some interesting resources I've checked out lately:
0) « The dollar is our currency and your problem. »
After last week's update, an astute reader shared this 1971 quote from John Connally, former US Secretary of the Treasury, to his European Finance Minister counterparts.
1) Red Notice: A True Story of High Finance, Murder, and One Man's Fight for Justice
What a page turner! If you intend to read it, I wouldn't read my short summary below and go straight to 2). While it's a non fiction book, and tells a real story, it's suspenseful, and you may want to keep the surprises for when you read the book!
It was written by Bill Browder. Bill was an investor based in Russia in the 90's and early 2000's, investing in Russian undervalued stocks. His fund Hermitage was the best performing fund in the world in 1997

This is where I've learned about these crazy things called voucher privatizations. Following the fall of USSR, Russia went on to privatize formerly state-owned companies. They distributed vouchers to citizens that they could redeem for shares in these companies.

All the vouchers all together represented 30% of all these state-owned companies (which is pretty much the whole Russian economy)

Citizens could sell these vouchers. The crazy thing is that at the market price ($20 / voucher), it meant that the whole Russian economy was valued at only $10 billion, only 1/6th of Walmart then 🤯

This is one of the ways Browder started to make a lot of money with his fund.

Suddenly, in 2005, when trying to travel back to Moscow (where he lived) from London, Bill found himself locked in a cell in the airport for a full night and then sent back to London. He'd never go back to Russia.

The thing is Browder had made a habit of pissing Russian oligarchs off.

For example, he was a minority shareholder of an oil company called Sidanco.

The main shareholder, a Russian oligarch, tried to screw Bill over by over diluting him, meaning creating tons of new shares that Bill was not allowed to buy.

As a result, Bill would have still had the same number of shares as before but a much smaller percentage of the company without any kind of compensation. He would have been essentially stripped off of his ownership of the company.

He fought tooth and nail to not let this happen - when most would have just accepted their loss and probably stopped investing in Russia - by going to the press and making a big deal out of it, among other things.

Browder won that case and the creation of the new shares was cancelled.

He also got into a similar situation with Gazprom, the largest natural gas producer in the world.

At this point, Browder benefited from Putin's support who was at the time consolidating his power and wanted to subdue the oligarchs (which Browder without knowing it helped him do)

What changed is that Putin eventually put the oligarchs on a leash and started benefiting from their gains. At this point, Browder became's Putin's enemy.

As it turns out, you probably want to avoid being Putin's enemy

What follows is a series of manipulations, forgeries, lies to steal Browder's funds' assets and convict him as well as his partners.

Browder and most of his business partners went to London to be out of touch of their Russian's enemies

However, one of Browder's lawyers Sergei Magnitsky didn't want to leave Russia. He also tried to expose some of the malversations that were happening.

As a result, Sergei was arrested under obviously false charges and was asked to perjure himself and declare Browder and himself committed fraud.

Refusing to perjure himself, he stayed 11 months in prison, was refused medical attention whereas he had gallstones and eventually died in custody.

The tragic death of Sergei led Browder to fight to get some sort of punishment for the people responsible for Sergei's death.

This ultimately led to the Magnitsky act, which punished these individuals by preventing them from entering US soil and from using the US banking system.

The law also enable the US to inflict similar sanctions to other people all around the world guilty of human rights abuses.

Right now for example, some call for the application of such sanctions to the people responsible for the atrocities committed against the Uighurs in China. (see this article on Foreign Policy)

This is where you learnt that his law was fought by the Obama administration (counter intuitive, isn't it?) because their policy with Russia was one of appeasement.

You also learn that John McCain offered his help immediately.
2) Wall Street's Crypto Cold War
Related to the last update on a potentially upcoming dollar crisis and how bitcoin could be a potential solution, I read this interesting article quoting renowned investor Paul Tudor Jones
We are witnessing the Great Monetary Inflation, an unprecedented expansion of every form of money unlike anything the developed world has ever seen.
What will be the winner in ten years' time?' At the end of the day, the best profit-maximizing strategy is to own the fastest horse. Just own the best performer and not get wed to an intellectual side that might leave you weeping in the performance dust because you thought you were smarter than the market. If I am forced to forecast, my bet is it will be bitcoin
I am not a hard-money nor a crypto nut. I am not a millennial investing in cryptocurrency, which is very popular in that generation, but a baby boomer who wants to capture the opportunity set while protecting my capital in ever-changing environments. One way to do that is to make sure I am invested in the instruments that respond first to the massive increases in global money. And given that bitcoin has positive returns over the most recent time frames, a deeper dive into it was warranted.
The most surprising result of our research group poll was the score ascribed to fiat cash. It got a zero almost across the board! The cry from the troops was, 'If something is by design going to depreciate 2 percent per year through inflation — why own it?'
3) Thread on how the Kindle was created
What I found interesting
Not being scared of cannibalizing yourself. Books sales generated 50% of Amazon's cash flow at this point and they were not scared to jeopardize that.

It's obviously the right decision as if you don't disrupt yourself, somebody else will.

However, most big companies are not able to get this right.
Don't assume something can't be done, just because others have tried and failed. 2 start-ups had already failed with ebook readers. Sony had a reader in the market that wasn't getting any traction. These failures emboldened Jeff's determination.
Similarly, there were many MP3 players before the iPod and attempts at smartphones before the iPhone.

I had a Grundig MP3 player before the iPod and getting music onto it was SO complicated.

Related to startups, the comment "it must already exist" when thinking about an idea is often irrelevant. If it's a good idea, it's very likely that someone has already tried or is trying at the same time, it doesn't mean you shouldn't pursue the idea yourself
The v1 of the Kindle was not very successful (see pic below). The keyboard was removed, and it started to take off with the v2. I believe I remember Tony Fadell (who was in the team that created the iPod within Apple) saying the same thing about the iPod: the v1 didn't have great traction.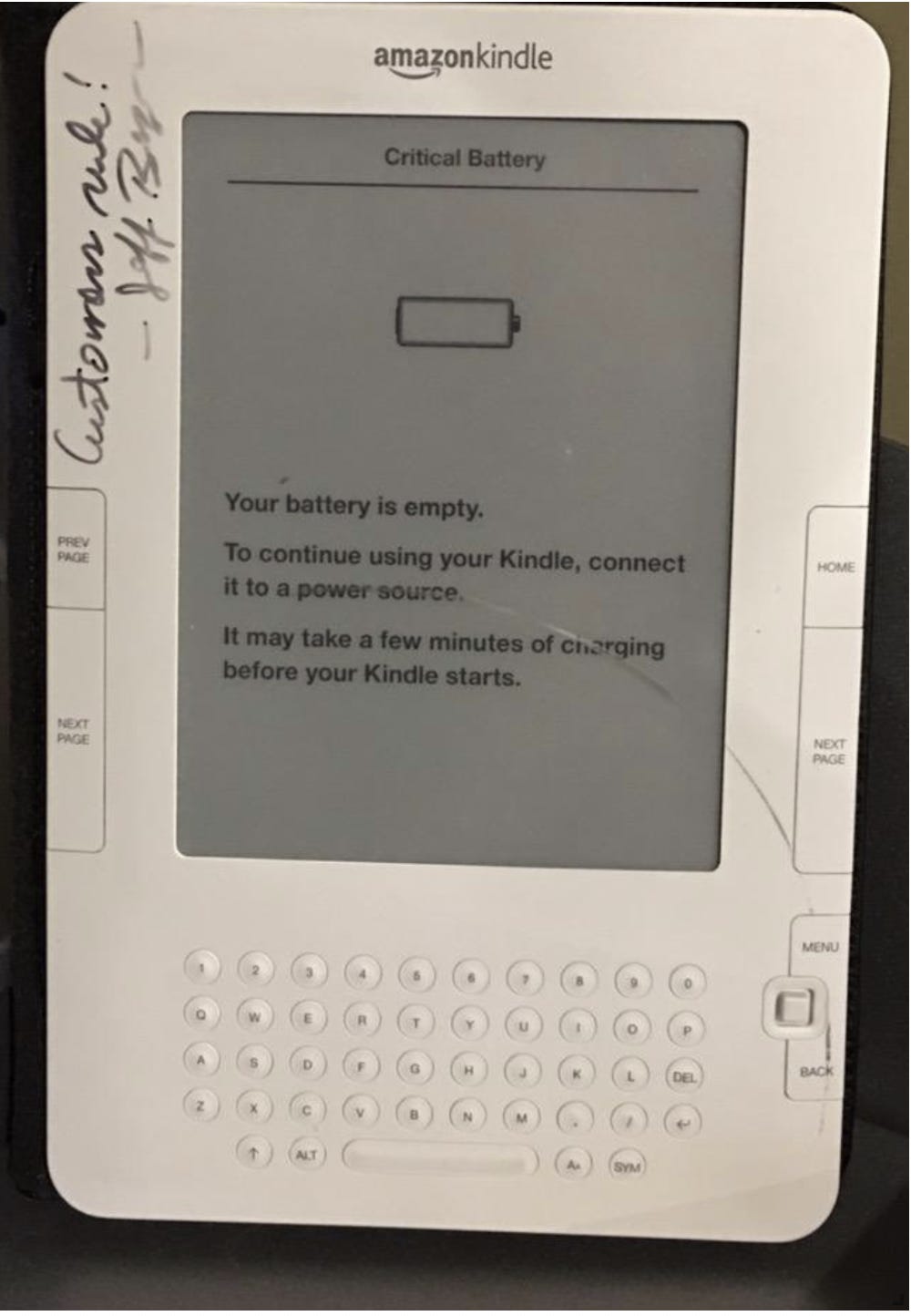 A tool I enjoy: Notion + Notion web clipper
I used to use Pocket to bookmark any article I'd want to read later. I recently switched to using Notion and the Notion web clipper. How it works
Whenever I clip a web page (article, tweet, video, etc), it adds it to a table on Notion

Every day or so, I go through the list and move most of them to "Maybe later" for articles I actually don't want to read right now

This helped me tremendously to focus on the readings that are the most important to me.

I'll then mark as "To read" the ones I want to read this week. I make sure this list is always short enough that I can actually read all these articles. If too long, I should move some to "Maybe later"

Nothing should be in "to read" if was added more than 5-7 days ago. If that happens, I'll automatically add them to "Maybe later"
Here's how it looks for the past 2 days (I haven't marked these ones yet)

One thing I learnt while building actiondesk
Every month, I send an update to our investors and team members and it's one of the best exercices I do
It forces me to take time to:

Review our KPIs in depth, think about what their evolution means, and look at them on a longer time scale than what I'd typically do every week / day.

Take a step back and ask myself: "What have we achieved this month?" and "What do we need to achieve next month?"

Are there any big thing I've been missing because I was too busy operating?
Even if you don't have investors, if you're running a company, I'd highly recommend to take some time every month to write about the last and the next month.
On my reading list
This newsletter is just getting started. If you liked it, share it with you friends by forwarding them this email.
If this email was forwarded to you, you can sign up here.