Deep in the trenches: July 11th 2020
Book on pandemics, how the economy works, MRR benchmark and setting up a paid private beta
Some interesting resources I've checked out lately:
1) Deadliest Enemy: Our War Against Killer Germs by Michael T. Osterholm
I'll let you guess why, but I recently became interested in epidemics and pandemics. This book was published in 2017 and the author could probably tell all of us a fat "I told you so"
Like many other people who know about pandemics, he called what was going to happen in details:
We have a global just-in-time-delivery business model and everything we use today is connected in some critical aspect to a production line far distant from our homes. If a factory in China suddenly can't function because 30 or 40 percent of its workforce is sick, we don't have a stockpile of its goods waiting in a closet or warehouse to tide us over until the factory reopens. If we have a similar outbreak in enough places at the same time, and factories can't get the parts and supplies they need from other factories, then we start to see a domino effect in which world trade suffers and economies start to falter.
But what if the number of severe cases goes up by 30 percent? Guess what: We're pretty much at capacity now under normal circumstances, having cut all of the "fat" out of the system for budgetary reasons. We don't have any surge capacity. We also will run out of the equipment we need to protect healthcare workers, such as respirators and the tight, face-fitting masks.
Beyond this, this is a typical instance of a non urgent / very important problem that we all chose to ignore (read more about the Eisenhower matrix).

It's difficult for an elected leader to allocate resources to these kind of problems. The likeliness of this happening during their mandate being very low, they're not incentivized to do anything about it.

There's a famous example in France of a minister who was under fire for having ordered too many vaccines during the 2009 swine flu epidemic.

Last point, this book actually makes you think that the situation could be way worse. A potential silver lining of covid-19 is that it will make us more conscious of the danger and make sure we're ready when a way deadlier influenza pandemic happens.
The author of the book was also on Joe Rogan's podcast a few months ago which led to an interesting discussion.
2) How The Economic Machine Works by Ray Dalio
Nobody really knows what's happening in the economy and what's going to happen (exactly Howard Mark's point in this memo). The way the economy works is complex, and it is particularly complex in time of crisis. I'm personally wondering:
Why has the stock market recovered? This seems highly disconnected from what's actually going on. Maybe linked to the point below 👇

What does it mean to print as much money as the US government has been doing?

Is this only a health crisis or also an economic / financial crisis. By this, I mean, will the economy recover as soon as the covid-19 situation is done or will we be in for another few years of crisis?
Ray Dalio is a renown investor. While this video won't fully answer the questions listed above, it helped me understand some basics of how the economy and more specifically how debt works.
If you want to go further, Dalio has written a book on the topic. It's a long and relatively hard book to read. I'm still going through it, small dose after small dose.
Rough summary:

Most internet adoption metrics growth is decreasing

This means there's little incremental value to capture

Startups have to steal revenue from existing internet companies ie tech becomes a zero sum business

This will lead to more focus on operations and finance versus R&D

My thoughts:

The facts are undeniable. In the previous decades, startups have benefited from major platform shifts: internet, mobile, cloud, e-commerce.

Growth within these is flattening (although maybe not for e-commerce)

That being said, I'm not certain I agree with the conclusion. I'd argue this means there needs more focus on R&D / product development. For example, in B2B:

In the past, you were competing with pen & paper. You could build a quick & dirty software in a few weeks / months and start growing and build the product as it goes.

If you now compete with other software first companies (albeit older with clunkier UX), it still means you need to spend time build a product with a minimum set of features.

Customers have higher expectation.
I always find it very helpful when founders / CEOs share metrics of their business, particularly at early stage. Here's the evolution of Monthly Recurring Revenue (MRR) of Teachable shared some time ago on Twitter by their CEO Ankur Nagpal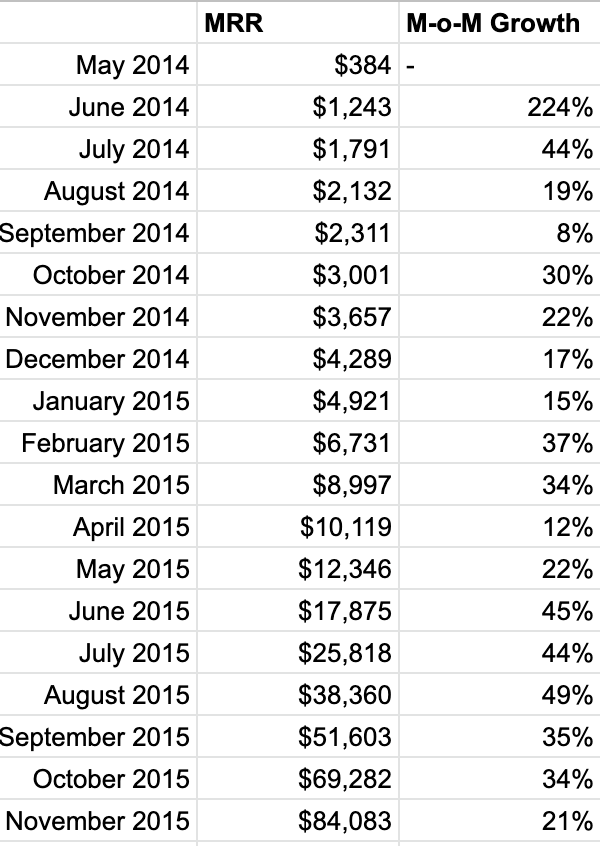 In the same vein:
A tool I've just started using
I've gone back and forth between Mac and Windows. I'm currently on Mac and one thing I really miss is the Alt + tab behavior in Windows.
Contexts enables you to reproduce a similar behavior on Mac as well as some other helpful shortcuts.
One thing I learnt while building actiondesk
After having opened our beta program to about 50 companies, we started onboarding more users and charging them after a two weeks trial.
I was amazed how easy it's been to build the following workflow:
Email to user invited to the beta (which we already had)

User clicks on link to add card and schedule an onboarding call

User is set to be charged the monthly subscription fee 2 weeks after the date of the onboarding call
It took me 2h and I didn't have to write one line of code.
Tools used: Webflow, Calendly and Stripe.
On my reading list